Scentsy has partnered with Universal Studios and has created unique fragrance products inspired by the Harry Potter™ and Wizarding World brand. NOW through July 14, 2021 at Incomewax.com you can pre-order a Hogwarts wickless candle warmer and exclusive scented candles for each Hogwarts houses.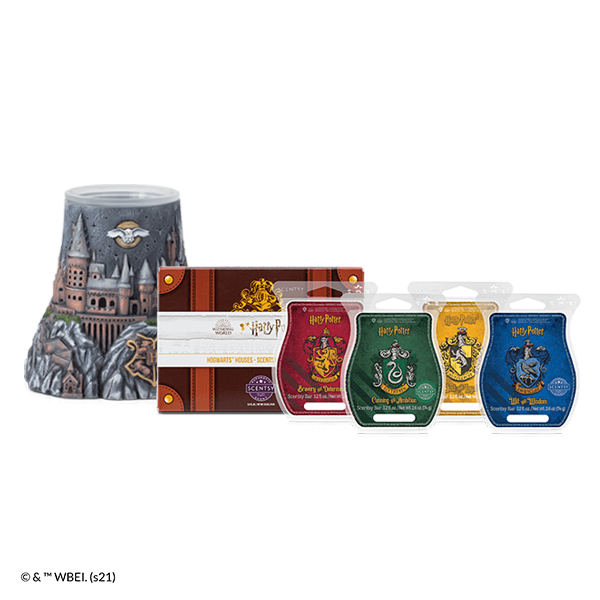 You can pre-order the electric Scentsy Harry Potter Hogwarts warmer, or a bundle of four different wax bars, one each of Hufflepuff, Gryffindor, Ravenclaw, or Slytherin, or a bundle of both the warmer and wax collection. No limit on how many you can pre-order.
Pre-order and pay a small deposit until July 21,2021, then the wizards will get to work producing your order for delivery in early 2022. The small deposit you put on it now will be applied toward the total due when you complete your order.
When Will Scentsy Harry Potter Be Delivered?

Your order will ship in early 2022. What? That's a long time? Yes, I admit that does seem like a long time for Muggles. However, this will guarantee you will get what you order.
Generally at Scentsy we offer LTOs (Limited Time Offerings/Only) on product that we have already pre-ordered and have in-stock in our distribution centers. But that can be a Black Friday / David's Bridal mad dash door-buster to try to snag some of these gems before they sell out. With our new Harry Potter inspired collection, you won't have to lace up your running shoes.

So kick back, have a butter beer, and head over to IncomeWax.com to reserve your Harry Potter Scentsy collection now.

**If you miss out on this pre-order opportunity, there should be some extras in-stock in February 2022 that you will have the opportunity to order.