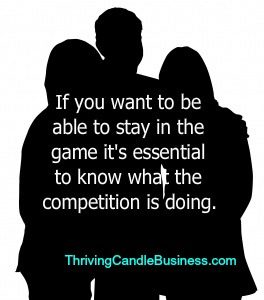 There's a familiar quote attributed to Chinese general and military strategist, Sun-tzu: "Keep your friends close and your enemies closer." If you know your enemies, and you know what they are up to, you can keep a close eye on them. If you are unaware of their activities that makes them unpredictable.
The same is true your direct sales competitors. One way to increase your business is to take existing ideas and put your own spin on them. By the way, there are no new ideas, just reworked ones.
Who are your competitors?
Some consultants believe other companies that sell similar products are their competitors. Could be. Others believe that their product line is unique enough to set them apart from other companies therefore their true competitors are other consultants within the same company. Remember competitor doesn't mean enemy or unethical business owner, merely one who is after the same business you are.
Regardless of your definition, if you have a business you are working, then you are in competition with everyone else who has a similar business. To find new customers and potential team members, investigate what your competitors are doing. There is nothing illegal or unethical about evaluating how a competitor markets her product or business opportunity. [Read more…] about Keep Your Friends Close and Your Competitors Closer