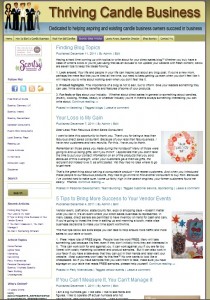 Having a hard time coming up with topics to write about for your direct sales blog? Whether you truly have a case of writer's block or you're just using that as an excuse to not update your website with fresh content, below are seven tips to keep the ideas flowing.
1. Look around. Your life and people in your life can inspire just about any blog post. If you're a new mom, perhaps the mere fact that you're tired all the time, but need to keep getting up even when you don't feel like it will inspire you to write about working even when you don't feel like it.
2. Product highlights. The importance of a blog is not to sell, but to inform. Give your readers something they can use. Write about the benefits and features of some of your products.
3. Fun facts or tips about your industry.   Whether about direct sales in general or something about candles, jewelry, cooking, fitness, beauty or whatever industry you're in there's always something interesting you can write about. [Read more…] about Finding Blog Topics