Scentsy Go is Our Portable Delivery System
Our portable Scentsy Go uses a USB to charge it. Has 7 LED lights to rotate or stay on your favorite color. Lightweight with a simple set up. We also have a Scentsy Go Solid that does not have any lights. See all the details here.
We Currently Have 26 Different Pod Scents to Choose From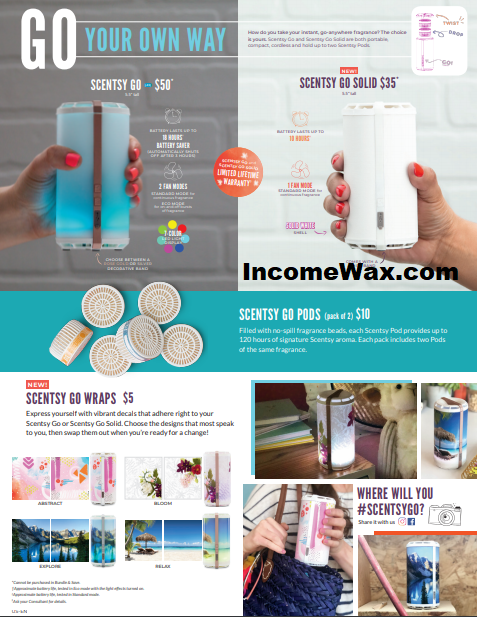 Filled with no-spill fragrance beads, each Scentsy Pod provides up to 120 hours of signature Scentsy aroma. Each pack includes two Pods of the same fragrance.
 AMAZON RAIN

 APPLE AND CINNAMON STICKS

 BLUE GROTTO

 CHRISTMAS COTTAGE

 CLOTHESLINE
 GO, GO, MANGO
 HONEYMOON HIDEAWAY

 JAMMY TIME

 JUST BREATHE
 LUCKY IN LOVE
 MYSTERY MAN
 SEA SALT AND AVOCADO
 SHIMMER POD
 SUGAR POD
 SUNKISSED CITRUS
 VERY SNOWY SPRUCE
Get a Scentsy Go and your favorite pods here. 
Please Like, Share and Leave a Comment!