Got a Problem, Ms. Customer?  Too Bad So Sad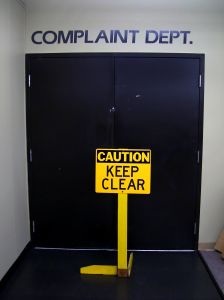 As we look forward to a competitive 2011, superb customer service is going to be vital to your success. I recently heard a story of a consultant who was made aware of a customer problem. She went onto a forum to ask other consultants for advice since the problem originated with another consultant.   On the forum she received suggestions from fellow consultants, some of them veteran Directors, to tell the customer to call the corporate office.
This consultant missed a golden opportunity to salvage the customer's poor experience.   She received bad advice.  We may be sales consultants, but we are in the service business. If we don't service our customers, someone else will.
Independent consultants should not give a customer their corporate phone number and tell her to call to try to solve her own problem. Obviously if the customer requests the corporate number, we should oblige; yet that is not what I'm referring to in this situation. We're all about customer service, or certainly should be.
The proper thing to do after learning the customer had a problem was to take down her contact information, along with the name of the original consultant and other pertinent information relating to the problem. The consultant would initiate the call to customer service/consultant support to provide them with the details.  Sending the customer off to deal with the problem on her own certainly would not enhance her already poor experience with the company.
Consider if you're in a store or at an event and need assistance. You ask someone who appears to know or who by all means, should be able to help – but instead she says – "Go ask that guy over there in the white hat."  How are you feeling toward the company about now?   Not at all favorable, right?
Rather the response should have been, "I'm not sure, but let me find someone who can help." See the difference that entire experience could have taken between "Go over there and ask" and "Let me help you"?
The New Year is traditionally a time for fresh starts; a time to do things differently and to produce great results.   Vow to make 2011 the year of Customer Service and you will see a surge in your business.
How may I help you?
About the Author: Laurie Ayers is a WAHM from Michigan and a Superstar Director with Scentsy Wickless Candles. She enjoys helping others start and maintain a candle business. You can find Laurie at https://la.Scentsy.us or https://www.ThrivingCandleBusiness.com