Did you know Scentsy fragrance has an entire kids' product line?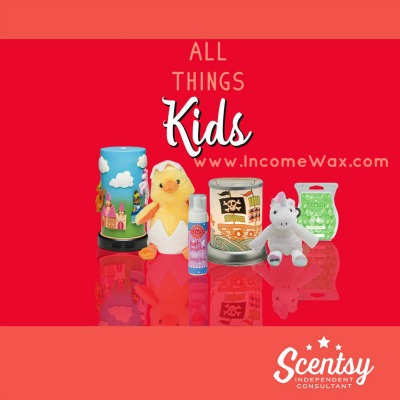 Warmers, Diffusers, scented candles, stuffed animals and bath soaps designed especially for children. Take a closer look:
Bath Smoothie – Kids will love to watch it magically transform into foam right out of the pump! And you'll love how this sulfate-free hair and body wash gently cleans from head to toe, leaving nothing behind but smiles and kid-friendly fragrance. 6.7 fl. oz.
Scrubby Buddies – This playful, puppet-inspired bath toy and washcloth will make washing up a blast! Each Scrubby Buddy comes with a bottle of Scentsy Bath Smoothie for a complete wash-and-play bath routine in one perfect package! Polyester blend; cotton lining. Hand wash, tumble dry low. Scrubby Buddy not sold separately.
Buddy Clips – Clip-on, collectible and oh-so-cute, these fuzzy friends are filled with scented beads that deliver kid-friendly fragrance anytime, anywhere. Great for backpacks and bedrooms! Buddy is polyester with a polypropylene clip. Spot clean. 4.5" tall
Kids Warmers – Kid-approved! Engage your child's imagination and senses. Kids will love these expressive accents for their everyday adventures. [Read more…] about Scentsy Safe for Kids