Confused about what you can and can't do with marketing your Scentsy business?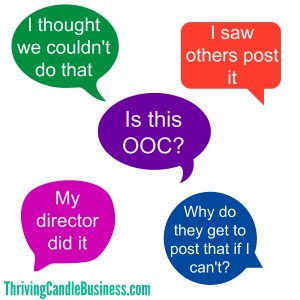 On a regular basis I get messages from Scentsy consultants asking if something is OOC (Out of Compliance).
Let me be clear, I am not the compliance department, and I am not the one who should be making final decisions or interpretations on your behavior.
That said, I used to be a federal compliance officer, I enjoy policies and procedures (I know, right?) and I have a pretty good handle on the ins and outs of all things Scentsy, since I've been around 10 years. I actually read them word for word and question anything I think contradicts itself.
Because of that lovely reputation I've acquired over the decade, I often have people privately send me posts to get my take on it – for the purpose of doing it themselves, or not doing it and possibly reporting it to the powers that be.
I cannot stress enough, if you take just ONE thing away from this post, it's this:
Do not use what others are posting online as your example if you can post it too.