Who loves to travel, but hates to pack?  Do you usually try to pack everything you'll need for a week in a carry-on suit case? Or do you not even try, and just check a bag?
I'm almost always one who does not check a bag but rolls everything I need for the week in a carry-on suitcase.
But soon I'm headed to Kansas City for Scentsy's 2017 annual convention, aka Scentsy Family Reunion. There will be lots of giveaways, far more than I will be able to put into my carry-on suitcase. Therefore I had to buy a big suitcase last night. It seems huge, although I suppose anything larger than a carry-on is huge to me. 
Racing Suitcases
Last week I was returning from a week in San Diego and had a layover in Minneapolis. We witnessed two boys, I am going to guess who were about 7 or 8 years old, racing each other on their suitcases. I'm still giggling about it.
Picture this, they were both straddled on top of their luggage, as if they were riding a circus pony but zooming through the airport to see which one would get to the next "called" location first. I fear if I tried to do that the wheels would buckle as would the reinforced sides of my suit case. It was still funny to watch. I love childlike wonder.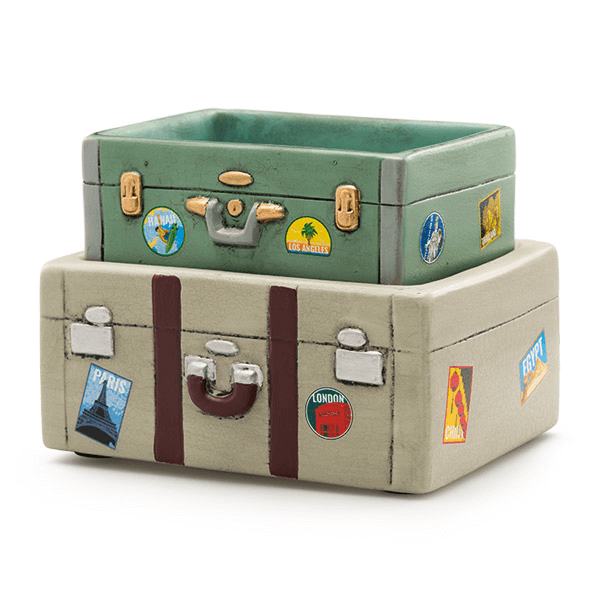 I'm sure we all have some interesting airport stories. If you're one who likes to travel, or perhaps you don't like to, but you're required to, I'd like to recommend one of Scentsy's newest electric candle warmers, Bon Voyage. It's an adorable retro suitcase that holds wickless candles.
This is an element candle warmer, meaning there is no light bulb to melt the wax. Instead it uses a heating element to warm the wax. Be sure to  include some scented wickless candle bars to warm  in the top of the suitcase. For extra savings check out our Savings Bundles.
Safe Travels!,
Please Like, Share or Post a Comment!