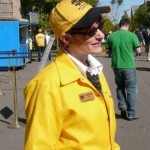 Whether or not you are a fan of the Notre Dame Fighting Irish, everyone should add 'Attend a Notre Dame Football game' to their bucket list. It truly is an experience like no other. There are also some direct sales lessons that can be learned from a trip to Notre Dame.
First it's important to understand a bit about the Notre Dame Usher program. I'll give you examples of their outstanding customer service, then hopefully you can transfer this knowledge to your own direct sales business.
Notre Dame has almost 900 ushers who work each game.  They each know they are Ambassadors to the University.   They represent a one of a kind institution and must reflect that at all times.   One thing you will hear over and over is "Welcome to Notre Dame" "Welcome to Notre Dame" "Welcome to Notre Dame."
Required vs. Prohibited Language
No substitute will do.  Ushers are required to welcome anyone who comes across their path. Saying nothing is as bad as just saying "Hi or Hello."  It's "Welcome to Notre Dame".   The first time guests are pleasantly surprised and the return guests have come to expect it.
Also, another term you will hear repeatedly is "How may I help you?"   Not, "Do you need any help?" and not  "Let me know if you need any help?"  "Do you know where you're going?' is totally unacceptable – it implies the guest is an imbecile. [Read more…] about Direct Sales Lessons from Notre Dame