Scentsy Club Offers Perks and Discounts and is Free to Subscribe
If you love to get a box of goodies in the mail each month, or every two, or three months, Scentsy Club is FOR YOU! No lock-ins, start, change, or cancel your subscription at any time.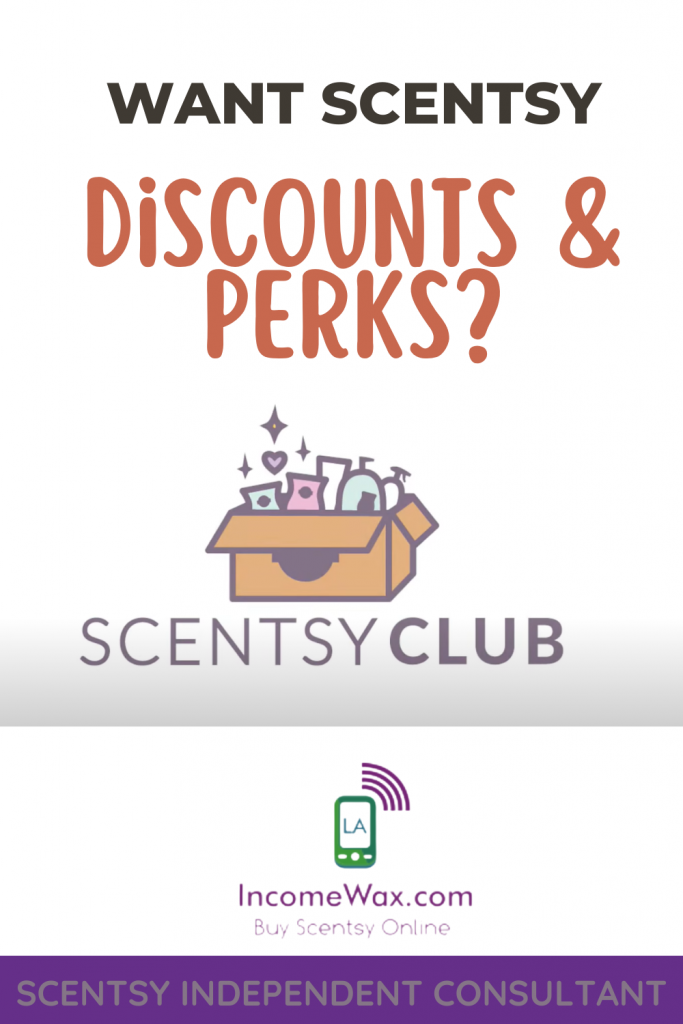 WII-FM (What's In It For Me?) – Before you invest time reading about WHAT Scentsy Club is, learn WHAT'S IN IT FOR YOU.
Always Get My Bar
Orders of $30 or more get 10% off
Orders of $60 or more get 10% off and one Scentsy Club product at half price (excluding
licensed products)
Earn points that can be redeemed for a discount
The Scentsy Club Process
All Scentsy Club customers are now eligible to earn rewards points on their Scentsy
Club purchases. Customers will earn one point on every dollar they spend in Scentsy Club, which they can use for up to a 50% discount on products in Scentsy Club or on products through my Scentsy website at IncomeWax.com
Scentsy Club customers can share a referral link to Scentsy Club with their friends and
family who reside in the same country to earn more rewards points. When a referred shopper signs up for Scentsy Club and receives a Scentsy Club shipment via the referral link, you as the Scentsy Club customer who sent them the link will earn two rewards points for every dollar their referred customer spends. $1 spent by the referred customer = 2 points applied to the referring
Scentsy Club customer's rewards balance
The Scentsy Club Particulars
Points can be redeemed towards product in your Scentsy Club and on at IncomeWax.com for up to a 50% discount.
Points are redeemed at a 25:1 ratio. 25 points = $1
Points expire after 180 days.
You will receive rewards points in the month following a Scentsy Club shipment.
Points cannot be used on licensed products. (i.e. Disney, NFL, Star Wars, etc.)
Rewards points are accrued on the purchase amount only and do not include shipping or
applicable discounts.
What is Scentsy Club?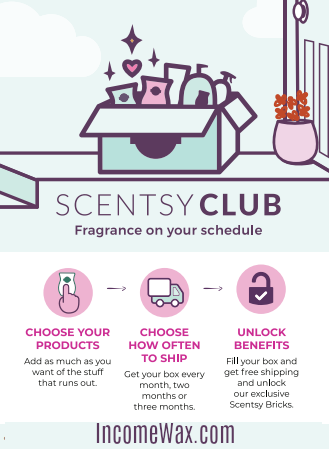 Scentsy Club is a global monthly subscription program offering more benefits than ever to Consultants and customers alike:
All consumable products (aka the stuff that runs out) are available through Scentsy Club, including Scentsy Bars, Scentsy Oils and anything else that needs a restock, even lightbulbs! Eligible products will vary depending on what's available in your country.


Always Get My Bar


If we discontinue a Scentsy Bar that's in your subscription, we'll keep making it just for you (as long as you keep it in your order)!*


Free or reduced shipping


On qualifying orders.*
Customizable shipment scheduling
Choose your shipment frequency: every month, two months or three months.
Go straight to www.IncomeWax.com to build your own Scentsy Club subscriptions. Simply select your products and choose how often you'd like them to ship. It's that easy!
What programs and limited-time offerings are eligible to add to Scentsy Club
subscriptions?
Programs and Limited Time Offers (LTOs):
Scent of the Month
You can subscribe to the Scent of the Month (SOTM) program to get a different fragrance each month. You can also add a specific SOTM fragrance to your subscription while it's available to the general public to take advantage of the Always Get My Bar perk.
Wax Collections
Members can subscribe for individual Scentsy Bars from wax collections within 30 days of the collection's launch date, or throughout the duration of the LTO (whichever is longer). Individual bars from wax collections are also eligible for Always Get My Bar.
Bring Back My Bar (BBMB) winners
BBMB winners are also eligible for Always Get My Bar if added to a subscription within the active selling period.
Summer Scentsy Bars
Summer Scentsy Bars are also eligible for Always Get My Bar if added to a subscription within the active selling period.
Scentsy Bricks
When new fragrances are launched in Scentsy Bricks, Scentsy Club members can subscribe to these new fragrances in Scentsy Bar form within 30 days of the bricks' launch date, or throughout the duration of the LTO (whichever is longer). These Scentsy Bars will begin shipping with Scentsy Club orders once the bricks promotion ends. Scentsy Brick fragrances in Scentsy Bar form are also eligible for Always Get My Bar.
Scentsy Whiff Box
Our monthly assembled Scentsy Whiff Box is eligible for Scentsy Club subscriptions for a fun surprise every month!
For More Information and Updates Visit my Scentsy Club page.