If you're ready to start a Scentsy home based business click here now and go directly to the sign up process.
How to Start a Scented Candle Business
Step 1 in starting a home based business is finding a company that offers quality, consumable products; strong tools and training; a history of success and a residual income. Click here to read about what type of wax Scentsy uses.
Step 2 of how to start a home business is to find a strong leader. Anyone can be a sponsor; but not everyone can lead. Look for someone who is easily accessible and responds to your questions, comments and concerns in a timely manner. Before you start your small business, find a leader who has product knowledge as well as a thorough understanding of the compensation; policies and procedures. Read the article "Selecting a Direct Sales Sponsor".
Step 3 when looking at work from home jobs is committing to the business. Decide ahead of time that failure is not an option. If you go into your home business with a try and see attitude, you will likely end up with an expensive hobby. Whereas if you thorough research and implement steps one and two above successfully, and are determined to run your home business like any other business, you will be successful.
To help develop a plan to work from home we've completed steps one and two for you already. Below you will find information about a strong candle company, Scentsy, that is realizing phenomenal growth as well as an experienced leader, Laurie Ayers, who has decades of demonstrated results in the working from home.
We are really proud of the Scentsy Home Based Business Opportunity because of the successful track record of producing entrepreneurs who are currently earning a full time income with their very own small business.
If you're absolutely serious about earning or replacing a full time income and have a passion for candles – we encourage you to visit the links listed below and begin your research process to determine of Scentsy is a company that best suits you.
Scentsy Wickless Candles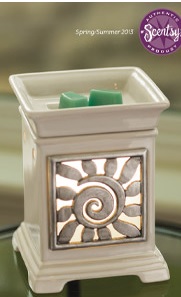 Founded in 2004 Scentsy offers wickless candles as safe alternatives to burning traditional wicked candles. Consultants market candle bars, candle bricks, electric warmers, plug-in warmers, room sprays and car candles (air fresheners).
With Scentsy, you will be an independent business person that has the flexibility to set your own hours, determine the amount of your own commission, and earn fantastic rewards for achievement. You will have the opportunity to earn over 30% on personal sales, and receive leadership bonuses of up to 9% of the entire downline volume of the people you recruit and train to sell Scentsy products. Being a Scentsy Consultant is a personally, and professionally, rewarding experience.
Benefits of starting a candle business as a Scentsy Consultant:
Sell an affordable, consumable product
Initial 20% commission goes up to 25% after initial $1000 in sales
Web site/store and customer newsletter available for $10/month
Additional bonuses and earnings for team sales
Requirements:
Purchase a $99 starter kit ($119 in Canada)
To remain a Scentsy Fragrance Consultant,  a Consultant needs 150 or more points in PRV in at least one calendar-month within a contiguous three-month period.
The Scentsy Starter Kit in US and Canada
For just $99 US/$119 CAD*, Scentsy will send you a Starter Kit that includes everything you need to run your Scentsy business–and it all fits conveniently in one shopping bag.
Your Starter Kit** will include:
Business Supplies
Scentsy Family Consultant Guide (1)
Scentsy Catalogs (25)
Showcase Brochures (25)
Product List (1 50-sheet pad)
Print-Your-Own Labels (10 sheets)
Invitations (100)
Order Forms (100)
Host Envelopes (5)
Host/Join Brochures (25)
Discover Scentsy DVD (1)
Demonstration Products
Party Testers (1 Full Set)
Category Cards (1 set of 9)
Full-Size Scentsy Warmer (1)
Scentsy Bars (2)
Scentsy Buddy (1)
Scent Pak (1)
Layers Products (2; contents subject to change)
Welcome Letter
* $99/$119 price does not include tax or shipping
** Contents may vary / If purchased separately, these items would be an investment of well over $300!
The Scentsy Starter kit in Germany, United Kingdom and Ireland:

For just €99 / £85 / €100.66 VAT inclusive, Scentsy will send you a Starter Kit that includes everything you need to run your Scentsy business.
Your Starter Kit will include: **
Scentsy Party Fragrance Testers
Spring & Summer (20)
Corner Café (10)
Favourites (20)
Romance (10)
Scentsy Man (5)
Simply Scentsy (5)
Spa (5)
Tropical (5)
Demonstration Products
Scentsy Warmer with detachable cord (1)
Scentsy Bars (2)
Scentsy Buddy (1)
Scent Pak (1)
Business Supplies
Welcome Letter (1)
New Consultant Start-Up Guide (1)
Scentsy Catalogues (25)
Product List (1 pad of 50)
Print Your Own Business Cards (100)
Print Your Own Labels (10 sheets)
Invitations (100)
Order Forms (100)
Host Envelopes (5)
Host/Join Brochures (50)
Discover Scentsy Family DVD (1)
Recyclable Bags (3)
Scentsy Personal Care Hand Cream (1)
* €99/£85 / €100.66 price does not include shipping. ** Contents may vary
Our Compensation plan is one of the most generous in the industry. Consultants who meet and maintain the sales requirements for their rank, and are otherwise in compliance with the Independent Consultant Agreement, qualify for commissions and royalties under the Scentsy Compensation Plan. All commissions are based on a Consultant's Personal Retail Sales of product. Royalties are based Qualified Retail Sales of product.
Download our FREE Start Up Guide which provides more details about how to start a candle business with the Scentsy Business Opportunity!
For more information why you should join my team please click here.
Ready to start your Scentsy business today? Click here to get this party started!
Looking for the decadent Velata Belgian Chocolate ( & now also Wisconsin Cheeses too) and Fondue Warmers?  You can start a Chocolate Business at  ilikechocolatealot dot com.
14 Responses to How to Start a Scented Candle Business