Scentsy Clean: High-performance formulas & sublime Scentsy fragrance
Scentsy Clean is our line of cutting-edge home-cleaning products that tackle the hard stuff with ease while leaving behind beautiful fragrance, allowing you to finally win the war on grime. Our high-performance products are easy to use, competitively priced and the only cleaning products on the market infused with the Scentsy fragrances our customers love.
Scentsy Fresh  – Eliminate odors with a simple spritz! Scentsy Fresh absorbs odors and fills the air with beautiful fragrance. 16 fl. oz. • Eliminates odors in hard-to-wash fabrics like carpets, furniture and curtains. • Imparts long-lasting fragrance. • Available in a variety of Scentsy fragrances. Also available in a combine and save mix-and-match 3-pack.
Scentsy Fresh FAQ
What does Odor Out smell like?
It's a clean citrus scent. Odor Out eliminates, versus masks, odors. It's also available in our Room Spray.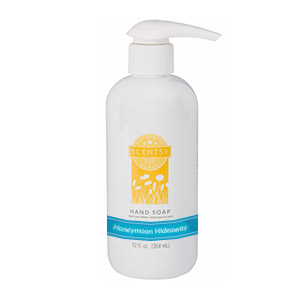 Hand Soap – The perfect cleansing lather, in fragrances to match the rest of your cleaning products. 12 fl. oz. • Softens hands and kills germs. • Imparts Scentsy fragrance as you wash. • Available in a variety of Scentsy fragrances. Also available in a combine and save, mix-and-match 3-pack. 
Hand Soap FAQ
Is Scentsy Clean Hand Soap the same formula as the Layers by Scentsy Hand Soap?
Yes. The same formula you and your customers fell in love with has been repackaged in our Scentsy Clean Hand Soap. Plus, we've added 50 percent more volume!
How does Hand Soap work?
By rubbing Hand Soap and warm, soapy water between your fingers and over your hands, dirt, germs and other contaminants are removed from your skin.
What does antibacterial mean?
Antibacterial means ingredients have been added to kill bacteria and microbes.
Is the Hand Soap antibacterial?
Scentsy Clean Hand Soap does not have antibacterial properties; however, the act of washing your hands is the most effective method of preventing the spread of germs and limiting the transfer of bacteria.
My hand soap dispenser is slowly oozing soap from the spout to form a puddle on the counter; is it defective?
No, it's not defective. This can happen when pressure is built up within the pump. You can stop this from happening by unscrewing the lid and putting it back on, not as tightly. If that doesn't work dispense two full pumps of product to help relieve the pressure. .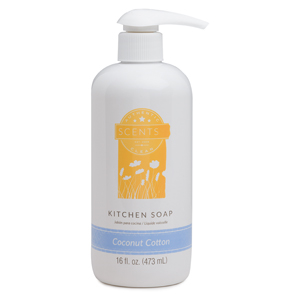 Kitchen Soap – Quickly and easily cleans even the dirtiest dishes with a swipe of the sponge. 16 fl. oz. • Biodegradable enzymes dissolve dirt and food particles. • Clean-rinsing formula won't leave filmy residue. • Sulfate- and phosphate-free. • Multipurpose formula is great for degreasing grills, as well as cleaning floors and other kitchen surfaces. • Available in a variety of Scentsy fragrances. Also available in a combine and save mix-and-match 3-pack.
Kitchen Soap FAQ
What is Scentsy Clean Kitchen Soap?
Scentsy Clean Kitchen Soap is a sulfate- and –phosphate-free, low-sudsing dish soap formulated with special enzymes to break up food and grease particles for scrub-free cleaning. Its clean-rinsing formula won't leave a filmy residue behind.
Does Scentsy Clean Kitchen Soap need to be diluted?
No. The product can be used directly on dishes, pots and pans.
Can the Kitchen Soap be used for things other than dishes?
Yes. It can also be used to clean floors and other kitchen surfaces. It also works great for degreasing grills. Just soak grates overnight in hot, soapy water for easy cleaning.
How many fragrances does it come in?
As of March 2017 Scentsy Clean Kitchen Soap is available in six fragrances: Coconut Lemongrass, French Lavender, Honeymoon Hideaway, Luna, Sunkissed Citrus and White Tea and Cactus. All fragrances are formulated in accordance with IFRA guidelines, as are all our fragrances.
Will Scentsy Clean Kitchen Soap dry out my hands?
With normal use, Scentsy Clean Kitchen Soap will not dry out hands. However, we recommend avoiding prolonged exposure to the product or using it as hand soap.
Is Scentsy Clean Kitchen Soap antibacterial?
No.
How much soap should I use to clean a sink full of dirty dishes?
Start with a few pumps. Add more soap for large or especially greasy loads.
Can I use Scentsy Clean Kitchen Soap in my dishwasher?
No
Counter Clean – My (LA) personal favorite product of all Scentsy. Should be named ALL Clean, as it cleans so many more surfaces than just counters. Get the most out of Counter Clean by using a lint-free microfiber cloth. All-purpose spray cleans while forming a clear barrier on sealed surfaces that gets stronger with regular use. 16 fl. oz • Ammonia-free formula. • Safe for use on granite, counters and bathroom fixtures. • Continuous use makes cleaning easier over time. • Available in a variety of Scentsy fragrances. Also available in a combine and save mix-and-match 3-pack.
Counter Clean FAQ
What is Counter Clean?
Counter Clean is an ammonia-free, multi-surface spray that gets stronger over time to protect surfaces and prevent dirt and grime from adhering.
Are there advantages to using Counter Clean over conventional multipurpose cleaners?
Yes. Counter Clean is formulated to make cleaning easier with continued use and features amazing Scentsy fragrance.
Is Counter Clean safe for all surfaces?
Counter Clean is safe for use on all sealed surfaces, including granite, counters, treated wood and bathroom fixtures.
Can I use it in my car?
Yes. Counter Clean is safe to use on hard surfaces in car interiors.
Is it safe to use around children and pets?
Yes, if normal safety precautions are followed. Keep out of reach of children and pets to avoid ingestion.
Is Counter Clean tested on animals?
No.
Does it contain antibacterial or disinfecting ingredients?
No. The product is formulated for daily maintenance and cleanup, not deep cleaning.
Is it non-toxic?
No. As with any household cleaner, Counter Clean should not be inhaled or ingested
Clean FAQ
Why is there a time and date printed on the bottom of my Scentsy Clean product?
All Scentsy Clean and Laundry products are stamped on the bottom of their package with the time and date when they were produced. This is not an expiration date; it is a production date. Scentsy does not sell and distribute "expired" products.
Please Like, Share or Post a Comment!
About the Author: Laurie Ayers is a Michigan work from home mom and a Superstar Director with Scentsy Wickless Candles. She enjoys helping men and women start and maintain a home based business in the US, Canada, Mexico, Australia, New Zealand, Puerto Rico, Germany, Ireland, UK, France, Austria and Spain. To download a FREE Start Up Guide which provides more details about how to start a home business as well as to learn about our compensation plan go to www.thrivingcandlebusiness.com/how-to-start-a-candle-business/ 
Be sure to connect with me on Facebook, Twitter, and Pinterest