Scentsy has an adorable pink heart shaped, Valentine's Day themed, electric wickless candle warmer that is on sale at twenty percent off!
This "Be Mine" warmer is an Element, meaning it heats the scented candle wax using a heating element vs. a light bulb. There is no lightbulb in this warmer. It is limited supply, so it'll be sold out when gone. We won't be getting more of these.
A love as sweet as yours deserves a daily declaration! Inspired by the classic candies bearing innocent affections, this heart-shaped warmer is the perfect gift for the one you love this Valentine's Day.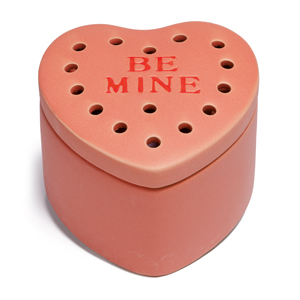 Remember to include some scented candle wax bars to warm in this beautiful candy heart shaped warmer. For the best savings, using this Bundle and Save link to get six for the price of five mix and match scents.