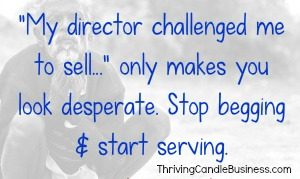 You can find much information on building your direct selling business. There are plenty of books, articles and blogs on what some deem as best practices to recruit.
What you won't find too much of is what not to do. If you don't recruit the right way you just come off looking desperate.
If you are already thinking, "But that's not focusing on the positive, Laurie" let me say that I am positive that if you are currently engaging in any of the actions below; and if after you read this you find yourself with a new awareness that what you've been doing isn't necessarily a best practice, I am positive you will see an increase to your down line.
1. Join My Team and Get:
Bribing people to join your team is numero uno on my list desperate recruiting moves.
Do you really want team members who are just there for the freebies?
It looks like your company's business opportunity and/or starter kit isn't good enough to stand on its own.
How is this any different than the little elementary school girl who couldn't get anyone to play with, so she gave away her cookies at lunch just to have friends?
It's sending a message that your mentoring and coaching skills leave much to be desired.  Otherwise you wouldn't devalue what you have to offer.
Based on the percentage of royalties, commissions, or leadership bonus (whatever you want to call it) you will receive on your new recruit's sales, have you calculated how much she/he will need to sell before you merely break even on your give away?