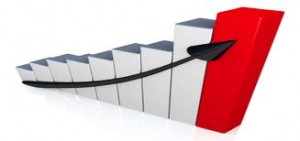 Many, many years ago I attended an exercise class with eccentric, fitness guru, Richard Simmons. He bellowed, "It took you more than 10 m&ms to get those thighs; it's going to take you more than 10 leg lifts to get rid of them!" Interestingly that statement has never left me because it is so relevant to many areas in life. It can even pertain to a direct sales business.
To review: a direct sales business is comprised of a two-tiered compensation model. Part of the sales consultant's income is derived from personal retail sales and the other portion of the pay comes from team building by helping others. The compensation is such that for optimum benefits and highest income potential, you need to do both – sell personally and help others. One cannot stand on its own – at least not for very long and not for very far.
Which brings me to my subject: Short Term Pain for Long Term Gain. Let's do the math. We can use Scentsy as an example, though the math will be similar with many direct selling companies. Personal retail sales commissions are paid at a rate of 20-30%. Team building bonuses are an additional 2-9%. At first glance you would think that the real money is in personal sales. If you sell $2000 and earn 30%, that's $600 in your pocket, right? Yes it certainly is. What if you sold $4000? That's $1200. Receiving a $1200 check for the month sure would help with family expenses, wouldn't it?
Consider the concept of working smarter, not harder. How much do you think you'd need to work to sell $4000 in one month? If you take an average party of $500 in sales, you'd need to do eight parties for that month. If you figure an average party takes four hours – that includes preparation, host coaching, set up, presentation, order taking, closing out the party, inventorying, bagging and tagging orders and delivery. So you'd need to work 32 hours to earn that $1200. That's still $37.50 per hour – nothing to sneeze at. [Read more…] about Short Term Pain for Long Term Gain