Scentsy's Stevie the Shark scrubby buddy and bath smoothie is the fun, safe way to be a part of Shark Week 2017.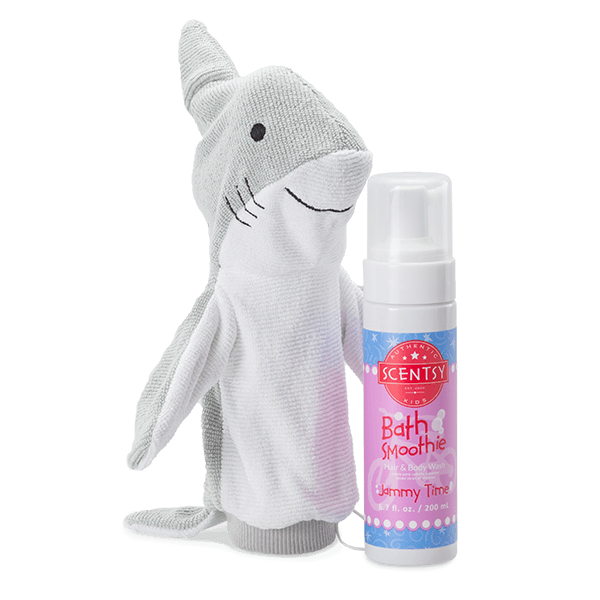 Stevie the Shark scrubby buddy is a playful, puppet-inspired bath toy and washcloth will make washing up a blast! Comes with your choice of Scentsy Bath Smoothie for a complete wash-and-play bath routine. Polyester blend; cotton lining. Hand wash, tumble dry low.
This foaming, sulfate-free hair and body wash gently cleans from head to toe, leaving nothing behind but smiles and heavenly fragrance. Available in all Kids fragrances. 6.7 fl. oz.
Available Scentsy Bath Smoothie scents to choose from:
Crazy Coconut, Gleeful Grape, Jammy Time, Rockin' Ruby Razz, Wild What-a-Melon.
Note: When you are selecting your smoothie scent to add to the scrubby buddy, click the ADD TO PACK button under the photo of the product. If you just click the product photo it'll take you to the shopping cart to order the product alone, without the scrubby buddy.
Scrubby Buddy FAQ
What are Scrubby Buddies? Scrubby Buddies are fun bath mitts designed for bath time play and washing.
What is the recommended age for Scrubby Buddies? Scrubby Buddies are suitable for all ages.
How do I use the Scrubby Buddy? Wet the Scrubby Buddy, add Scentsy Bath Smoothie, work into a lather and use as you would a washcloth or bath pouf.
What are Scrubby Buddies made of? Scrubby Buddies have a cotton lining. The outer material is 80 percent polyester and 20 percent chinlon, a type of nylon.
How do I dry the Scrubby Buddy? After use, thoroughly rinse and wring out the Scrubby Buddy. Hang the Scrubby Buddy to dry using the loop on the cuff.
How do I clean my Scrubby Buddy? Hand washing and air drying is the best way to take care of your Scrubby Buddy. Machine washing and drying may damage your Buddy's stuffing.
Are they sized for kid or adult hands? Scrubby Buddies have been designed to accommodate hands of all sizes. The fabric has a little stretch to fit adult hands and a stretchy cuff to help stay on a child-sized hand.
See and order all of our current Scrubby Buddies here.
What's the Great White Shark's favorite candy? … The Jaw-Breaker!
Please Like, Share or Post a Comment!
About the Author: Laurie Ayers is a Superstar Director with Scentsy Wickless Candles. She enjoys helping men and women start and maintain a home-based business in the US, Canada, Mexico, Australia, New Zealand, Puerto Rico, Germany, Ireland, UK, France, Austria and Spain. To download a FREE Start Up Guide which provides more details about how to start a home business as well as to learn about our compensation plan go to www.thrivingcandlebusiness.com/how-to-start-a-candle-business/ 
Be sure to connect with me on Facebook, Twitter, and Pinterest