Scentsy is in Germany & the UK!
There is still plenty of room to be one of the early Scentsy consultants in the UK, Germany & Ireland.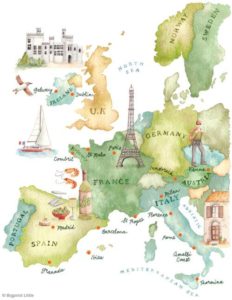 Be one of the very first successful Scentsy consultants in Germany and the UK – a ground breaking opportunity!
German, French, Spanish and UK residents can enroll to start a Scentsy Fragrance business. I am looking for Consultants in Germany, France, Spain, England, Scotland, Wales and Northern Ireland to join my team. There is still plenty of room to be one of the successful consultants to represent Scentsy in Europe, I encourage you to have a look around this site, and familiarize yourself with our exciting opportunity. I welcome any questions, comments or concerns; please contact me here.
Join My European Scentsy Team!
Scentsy's philosophy of Simplicity, Authenticity, and Generosity has made us one of the fastest growing companies the direct selling industry has ever seen. And we just keep growing! Right now, Scentsy has expanded into Europe. First comes spreading Scentsy throughout the U.K. France, Spain and Germany, but after that, who knows? Anything's possible with Scentsy!

As an Independent Scentsy Consultant, you'll not only be embarking on an exciting new business opportunity, enjoying flexible hours, the ability to earn income, and the satisfaction of connecting people you care about with products you believe in. You'll also be on the cutting edge of a thrilling international expansion. Learn more about me and then join Scentsy.
Frequently Asked Scentsy Europe Questions
Q:What type of payment options are available in Germany and the UK?
A: New recruits can enroll using Visa, MasterCard, or Diners Club International. Direct debit and Maestro will be added as an additional payment option as soon as possible. American Express will not be accepted.
Q: What if I have questions specific to my country?
A: To reach Scentsy Consultant Support in Germany, new Consultants can email support.de@scentsy.com or call 080 0180 8375 from 9:00 to 17:00 (GMT), Monday through Friday, or submit a support ticket request through your Workstation at any time. To reach Scentsy Consultant Support in the U.K., new Consultants can email support.uk@scentsy.com or call 080 0917 6204 from 8:00 to 16:00 (GMT), Monday through Friday, or submit a support ticket request through your Workstation at any time.
Q: How do I get started?
A: Joining is simple. Contact me, Anne-Marie Scott Independent Scentsy Consultant, or just sign up online. Scentsy will send your Scentsy starter kit, including fragrance testers, business supplies, and demo products, for just €99 (inkl. MwSt., zzgl. Versandkosten) in Germany and £85 (VAT inclusive, plus shipping costs) in the UK. I will help you get started and show you how to make the most of Scentsy's training and support tools.
Q: How much can I expect to earn?
A: The amount you can earn depends completely on how much time and energy you want to invest. Consultants make 20%-30% commission on their own sales as well as additional bonuses on the sales of other Consultants they sponsor. Some of our Consultants opt to sell just enough to get their Scentsy products at a discount, while our SuperStar Directors can make six-figure incomes per year.
Q: What other benefits does Scentsy offer to Consultants?
A: Every Scentsy Consultant gets a free website for three full months for €12/Monat / £10, VAT inclusive, a free online Workstation to organize and run their business, free credit card processing, no inventory to manage, no credit card fees, and free shipping on orders over €175 / £225
Q: What kind of support and training does Scentsy provide?
A: At Scentsy, Consultants are truly sponsored and mentored, not just recruited. In addition to the In-Market Consultant Support emails and phone numbers listed above, you'll also receive support from me, and you'll you'll get access to web-based training tools and an online forum for connecting with fellow Consultants. Scentsy will send you a New Consultant Start-Up Guide, promotional products, and marketing tools.
Q: Will I be obligated to meet any sales quotas?
A: In order to maintain "active" status, you need to place at least €175 / £225 in orders during one out of every three months. You're free to schedule as many or as few parties as you like and sell as much or as little product as you like. You can also act as your own Host and Consultant.
Q: What if this just doesn't work for me?
A: At Scentsy we realize that, even with the best of intentions on both sides, not all partnerships are meant to be. As a Consultant or a Host you're free to leave Scentsy at any time. There is no cancellation penalty.
Are you ready to get started? I would love to welcome you to the our Team. Click here to get started.
About Anne-Marie Scott
My name is Anne-Marie and I currently live in Düsseldorf Germany. I first heard about Scentsy through my Fian?e Nicki (Director of Down Under & to the Right Scentsy team) who loves it and has had great success with it travelling for free and working from home in Australia, and now living with me in Germany and working her own online international Scentsy team.
I currently work Full Time in the Aviation industry but my BIG GOAL is to move back to Australia in the very near future, buy a cute little house that we both can make our home and just love life!
With our Scentsy business we know now that is possible. The flexibility it gives both of us working from home, or just hanging with friends, selling a brilliant product and creating our own fun team together is everything I never knew was possible.
You can purchase through my site  if you live in Germany, UK, Ireland, Scotland, Italy, Luxembourg, Poland and France. (click on the little flag top right corner to change language).and have your order shipped direct to your door.
You can JOIN me by clicking on JOIN and investing in your OWN SCENTSY BUSINESS! You can join me WHEREVER YOU LIVE IN THE WORLD! ($99us, $119cad, $1,799mxn, £85uk, €99eur)
You can SHARE MY STORY & WEBSITE  to others who would love their house to smell great or extra money each month to help pay off their bills, save up for a holiday (come visit me in Australia!) or just want to breathe easier knowing they have savings in their bank. Also please connect with me on Facebook.
(LA note: If you're confused why you're on Laurie Ayers' Thriving Candle Business page, but are seeing content about Anne-Marie Scott, it's because Anne-Marie is one of my rock star team members in Europe. Join her team and you'll have the best of both worlds: mentoring from her locally, as well as access to me with my 29 years in Direct Sales, including eleven in Scentsy.)