If You Love Gingerbread. And If You Love Donuts, You'll Love Gingerbread Donuts!
I found a fabulous gingerbread donut recipe on mummymade.it
INGREDIENTS
1/3 Cup plus 1 Tablespoon Arrowroot
3 1/2 Tablespoons Coconut Flour
1/2 teaspoon Baking Soda (Bicarb Soda)
Dash of Salt
1 teaspoon ground Ginger
Dash of Cloves
Dash of Cinnamon
1/4 Cup Milk (of choice)
2 Tablespoons Maple Syrup or Golden Syrup (Rice Malt Syrup can be substituted)
2 Tablespoons Oil
1 teaspoon Vanilla Extract
1 Egg (or for vegan option substitute 1/4 Cup mashed Banana or Apple Sauce)
1/4 Cup of granulated Sugar (Coconut, Maple, Raw etc)
1/2 to 1 teaspoon ground Ginger (add according to desired taste)
INSTRUCTIONS
Preheat the oven to 180C/360F. Grease a donut tin.
Mix the dry ingredients together in a mixing bowl. Add the wet ingredients and stir to combine.
Pour the mixture evenly into 7 donuts. A mini muffin tin or cake pop tin can be used instead but the cooking times will vary.
Bake for 15 minutes. Whilst the donuts are baking, mix the sugar and Ginger in a shallow bowl.
Once the donuts are cooked, immediately remove them from the tin and roll them in the ginger sugar. Serve the donuts warm or cold.
Store the donuts in an airtight container for up to 3 days.
All The Scent Without the Calories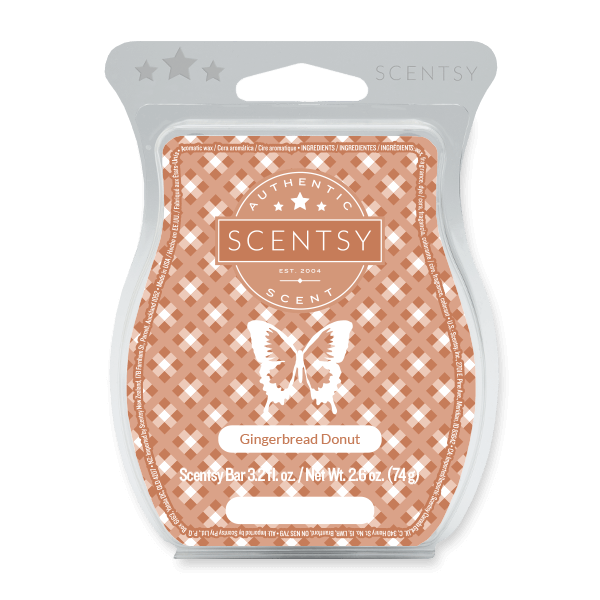 Whether you're counting carbs, eliminating sugar, or enjoying tasty treats, you can now have all the scent without the calories with Scentsy's new Gingerbread Donuts scented candle scent! It is available in wickless candle wax bar, a hanging air freshener and a concentrated room spray.
Described as:  a little slice of heaven in rich, indulgent folds of golden gingerbread, spiced donut and vanilla bean.  Mmmm, makes you hungry, doesn't it?
New this year is our Gingerbread Man mini candle warmer. You'll want one of these adorable nightlights to warm scented Gingerbread Donut candle wax.