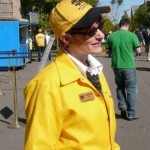 Whether or not you are a fan of the Notre Dame Fighting Irish, everyone should add 'Attend a Notre Dame Football game' to their bucket list. It truly is an experience like no other. There are also some direct sales lessons that can be learned from a trip to Notre Dame.
First it's important to understand a bit about the Notre Dame Usher program. I'll give you examples of their outstanding customer service, then hopefully you can transfer this knowledge to your own direct sales business.
Notre Dame has almost 900 ushers who work each game.  They each know they are Ambassadors to the University.   They represent a one of a kind institution and must reflect that at all times.   One thing you will hear over and over is "Welcome to Notre Dame" "Welcome to Notre Dame" "Welcome to Notre Dame."
Required vs. Prohibited Language
No substitute will do.  Ushers are required to welcome anyone who comes across their path. Saying nothing is as bad as just saying "Hi or Hello."  It's "Welcome to Notre Dame".   The first time guests are pleasantly surprised and the return guests have come to expect it.
Also, another term you will hear repeatedly is "How may I help you?"   Not, "Do you need any help?" and not  "Let me know if you need any help?"  "Do you know where you're going?' is totally unacceptable – it implies the guest is an imbecile.
Instead, "How may I help you?" is stating the fact that I am here to help you; or that "There must be something that I can do to make your visit more enjoyable." Under no circumstances must a guest need to ever ask an usher, "Can you help me?" The usher should have already inquired as to HOW he/she can help.
Another prohibited response is, "I don't know." Rather, it's "Let me find someone who can help."   And at that point, the usher would walk with the guest to another usher who will have the correct response.  "That man in the white hat will know" is also something you should never experience at Notre Dame. Rather, it's "Let me find someone who can help."
It's quite simple actually – "Welcome to Notre Dame.  How may I help?" – two small sentences that speak volumes and are so very important to the Notre Dame mystique.  Paying attention to these powerful details is one of the reasons that even visiting team guests who have blatant disdain for the Fighting Irish, will send letters and post online about how they were pleasantly surprised and impressed at the hospitality shown to them during their stay in South Bend.

How can you use this Notre Dame illustration in your direct sales business?
Do your new (and even veteran) team members really feel welcomed on your team?  Or do they feel like they're just a residual income to you?
Do your customers feel like they receive added value from purchasing through you?  Or do they get the impression that you are you only interested in the sale?  Is there anything you do or say to your customers that would encourage them to return again to "your campus"?   Or are they likely to invest their hard earned dollars elsewhere?
Do you anticipate needs before they arise?
Do you respond, "I don't know?" (Or worse yet, don't respond at all?)  Or do you say, "I'm not sure, let me find out and I'll get back to you"?   It's really okay if you don't have all the answers.   It's not okay, however, to not help find solutions when problems arise.
Starting right this moment, decide to run your business in the same way that the Ambassadors to Notre Dame treat all home game days.  Let me know the results, I'd love to hear how this slight change is affecting your bottom line!
By the way, this year's annual Notre Dame Blue/Gold intrasquad scrimmage is on 22 April 2017. Will I see you there?
GO IRISH!
Please Like, Share or Post a Comment!
About the Author: Laurie Ayers is a Michigan work from home mom and a Superstar Director with Scentsy Wickless Candles. She enjoys helping men and women start and maintain a home based business in the US, Canada, Mexico, Australia, New Zealand, Puerto Rico, Germany, Ireland, UK, France, Austria and Spain. To download a FREE Start Up Guide which provides more details about how to start a home business as well as to learn about our compensation plan go to www.thrivingcandlebusiness.com/how-to-start-a-candle-business/ 
Be sure to connect with me on Facebook, Twitter, and Pinterest