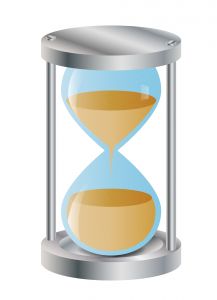 So I'm sitting here in Food Avenue Express, the little snack bar inside of Target, waiting for my daughter and her friend to finish shopping. They're the class reps who have the distinguished honor of purchasing toys for the family their class adopted for Christmas.
What does this have to do with running your own business? It may be a stretch, but hang with me a moment.   What's one challenge independent consultants often state as a reason for their business not taking off?   NOT ENOUGH TIME!
Many newer consultants also work a full time job – either at home raising children or outside the home as an employee for someone else.   Don't forget all the other obligations such as being taxi driver for the kiddos, cleaning the house, head chef, banker, homework helper, wife or head of the household.   When would you possibly have time to start a home business?
The answer is that you don't have time – you have to make time. You've heard the tired cliché "Where there's a will, there's a way?" This is definitely true of making time to start and grow a home business. It's not too often that people complain that they have too much time, right? So from the start just come to terms with the fact that you likely will not have nearly as much time to devote to your business as you would like.   If you accept that from the beginning, then you will not always feel like you're failing or have that uneasy feeling that there's never enough time.
No matter how you slice it, there are still only 24 hours in a day.   One way to squeeze in 15-20 minutes is to take your laptop with you to Target then let your teens do some of the shopping while you sit in Food Avenue Express to get some work done.  Perhaps set your alarm 20 minutes earlier in the morning to get some work done before the kids get up.   You'd be surprised what you can get accomplished in 20 minutes.
Smokers often take 10 minute smoke breaks to go outside and fill their lungs with carbon monoxide. Why not take a non-smoke break to work on your business for 10 minutes while you're on a break from your jobby job? Or take a pass on going out to lunch with the gang and spend 25 minutes doing something related to your home business?
While you may not have 1-2 hours a day of undivided time to write a blog post, make some phone calls, enter orders in the computer, bag and tag the product that UPS just delivered or to call a hostess, you can still get things accomplished in small increments.
It's a lot like exercise really.   How many people don't exercise because they don't feel they have 45-60 minutes to work out?   Yet if you committed to spend just 15 minutes jogging on your Rebounder or dancing to Wii Just Dance 2 a handful of times throughout the day, you may start to see your butt shrink.
Get into this same "˜small increment' mindset and you will see your business grow!   Remember, you won't have time – you have to make time.
About the Author: Laurie Ayers is a WAHM from Michigan and a Superstar Director with Scentsy Wickless Candles. She enjoys helping others start and maintain a candle business. You can find Laurie at https://la.Scentsy.us or https://www.ThrivingCandleBusiness.com