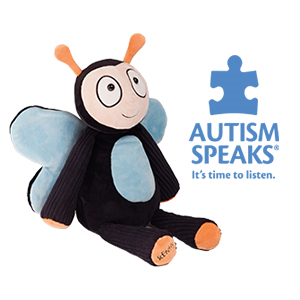 Get a Bernie the Buddyfly Scented Stuffed Animal to Benefit Autism Speaks®
Let sweet friendship flutter and take flight with this little cuddlebug. Scentsy will donate $4.80 from the sale of each Bernie the Buddyfly Scentsy Buddy to Autism Speaks®. Includes one Scent Pak scent of your choosing.
Regularly $35 – ON SALE NOW at 50% off for only $17.50!
At 50% off, this one won't last long. It's not too early to think about Christmas gifts.
Scentsy Buddy FAQ
What is the recommended age for Scentsy Buddies? Scentsy Buddies are suitable for all ages.
Are the Scentsy Buddy and the Scent Pak safe for children? Both the Scentsy Buddy and the Scent Pak have passed stringent product safety testing for U.S. and Canadian markets, including specific safety tests for children's toys. Both products passed tests for tear strength and foreseeable misuse, fabric composition and cleanliness and toxicological assessments for banned or restricted chemicals without producing detectable amounts of any such substance.
How do I clean my Scentsy Buddy? Spot cleaning is the best way to take care of your Scentsy Buddy. Machine washing and drying may damage your Buddy's fur or stuffing.
What are the step-by-step instructions for using my Scentsy Buddy? Your Buddy is ready to play as soon as it arrives! Simply open the zippered pouch in your Buddy's back, insert a Scent Pak, and zipper the pouch back up.
How long will the fragrance in a Scent Pak last? About 30 days.
How long should I wait to change Scent Pak fragrances? You can change Scent Paks at any time. For the best experience, remove the current Scent Pak, wait a day or two for the fragrance to dissipate, and then insert a new Scent Pak.
Remember, $4.80 from the sale of each Bernie BuddyFly gets donated to Autism Speaks®
Please Like, Share or Post a Comment!
About the Author: Laurie Ayers is a Superstar Director with Scentsy Wickless Candles. She enjoys helping men and women start and maintain a home-based business in the US, Canada, Mexico, Australia, New Zealand, Puerto Rico, Germany, Ireland, UK, France, Austria and Spain. For information about how to start a home business as well as to learn about our compensation plan go to www.thrivingcandlebusiness.com/how-to-start-a-candle-business/ 
Be sure to connect with me on Facebook, Twitter, and Pinterest