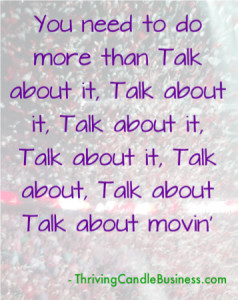 Ever hear a fellow consultant say, "I'm in a funk"?   I think we all get the idea of what that means when we hear it.  Basically that something isn't quite right; nothing seems to be going well; in a slump, right?
Songwriter Steven Greenburg wrote the popular "Funkytown" when he became bored with Minneapolis and wanted to move to New York.   Some of the lyrics go: Well, I talk about it, Talk about it, Talk about it, Talk about it, Talk about, Talk about Talk about movin"
Sound Familiar?
When consultants say they nothing is working, it  reminds me of Funkytown. I have had conversations similar to that below more than a few times over the years:
Downline:   Help! Help! I'm in a funk
Me:   Okay, tell me what you've been doing that isn't working
DL:   I can't get any parties booked and my sales are really down
Me:   What are you saying to potential hosts?
DL:   "Do you want to have a party for me?"
Then we go into a conversation about how hosts don't do consultants favors.   The consultant has a fabulous product he or she wants to share and give others the opportunity to earn free items.   Actually the consultant is doing the hostess a favor. It's an important change in mindset.
Me:   What else are you doing for your business?
DL:   I've talked to everyone I know.
Me: What have you said?
DL:   Everyone is broke
Notice a pattern of evading my questions?
Me:   Have you called your past customers and hosts recently?
DL:   I sent a text
Me:   Have you called your past customers and hostesses recently? Just let them know what the current specials are and tell them that you're placing an order and ask if you can them anything.
DL:   Oh.
Then three months go by and the same consultant contacts me again: →']);" class="more-link">Continue reading →