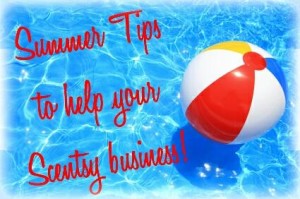 This Top 10 List to help your Scentsy business was originally developed by Superstar Director Melissa Gratz. She put it out a few years ago during the holiday season. I liked it so well I just tweaked it a bit (with her permission) to align with Top 10 Summer Tips to Help Your Scentsy Business. The fun graphic was created by Superstar Director Christina Osburn. 
I love collaborating with my peers. We all have the same goal in mind, which is our Scentsy Mission Statement: To bring value to the world by providing an industry-leading, family-friendly business opportunity selling creative, artistic, high-quality products that Warm the Heart, Enliven the Senses, and Inspire the Soul. 
Without further ado – Top 10 Summer Tips to Help Your Scentsy Business:
10. Say these words in your head. Then say them out loud: No limited time only promotion or backordered item is going to break my business, or slow me down. So what if someone needs to make a second choice. Make THE SALE, and wear a smile on my face while doing it. Love what you do – When you do, it shows, it's contagious, and it makes people WANT to do business with you.
9. Spray every piece of USPS mail you send with a Scentsy Room Spray. While you're at it, spray the cash in your wallet. You will pay for your items with the best smelling money in town.
8. Start focusing on June's Scent/Warmer of the Month – Take pre-orders – Summer Sunrise and Summer Sunset are DELICIOUS!  The Lone Star warmer is both patriotic any citizen would be proud to own as well as rustic for Father's Day. Continue reading →